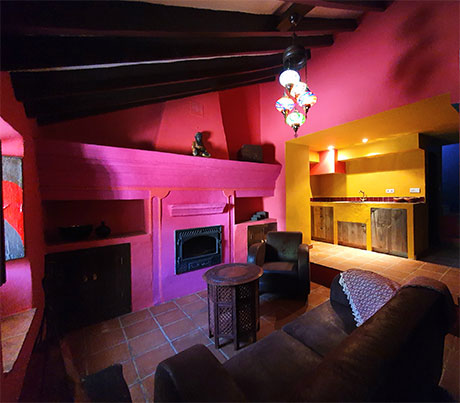 1 bedroom with a double bed
Bathroom with shower and toilet
Living room with comfortable seats
Kitchen with own fire and fridge
Air-conditioning and heating
Towels, hair dryer and bed linen
Price:
80 euros / night (2 people; without breakfast)
100 euros / night (2 people; breakfast included)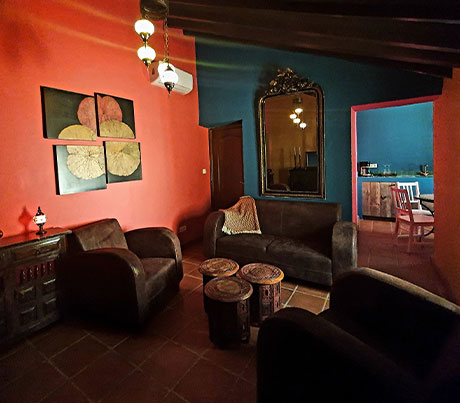 Facilities Señor Pickles:
2 bedrooms with double bed
Bathroom with shower and toilet
Living room with comfortable seats
Kitchen with own fire and fridge
Air-conditioning and heating
Towels, hair dryer and bed linen
Price:
80 euros / night (2 people, without breakfast)
160 euro per nacht (o.b.v. 4 personen, zonder ontbijt)
100 euros / night (2 people; breakfast included)
200 euro per nacht (o.b.v. 4 personen; ontbijt inbegrepen)
At El Perro Loco, you decide how you prefer to spend your holiday. There are two options:
Are you in need of full privacy? That's perfectly possible, as the casita's have their own kitchen. You can stay in your casita without seeing or needing us every day. Do you prefer to have some company? Then we are there for you. You sleep in your casita, we do all the rest. We provide breakfast on a daily basis. A few times a week we'll cook lunch and dinner.
Together with our guests, we'll decide when and where.
El Perro Loco has some common areas. The swimming pool is next to our house, which means opposite the casita's and only 30 meters away. We have a honesty bar: we provide a full fridge; our guests point out what they consume. El Perro Loco has a big garden/mountain, where you can discover different peaceful corners.
We have a big library for our guests, so you can hide away with your book in one of our hidden corners.
Of course, it's also possible to book for just one person. Then you'll pay 70 euro/night, breakfast included.
Vervoer van en naar de luchthaven: 100 euro
Do some shopping to provide a full fridge upon your arrival: cost of the shopping + 20 euros for the service