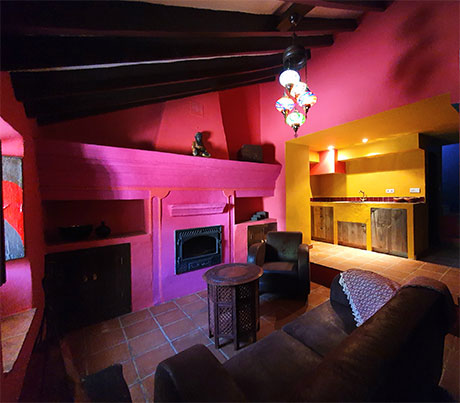 1 bedroom with a double bed
Bathroom with shower and toilet
Living room with comfortable seats
Kitchen with own fire and fridge
Air-conditioning and heating
Towels, hair dryer and bed linen
Price:
80 euros / night (2 people; without breakfast)
100 euros / night (2 people; breakfast included)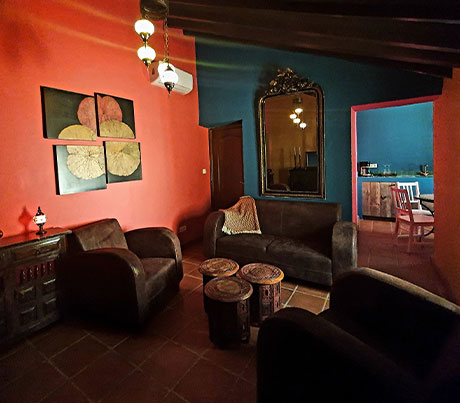 Facilities Señor Pickles:
2 bedrooms with double bed
Bathroom with shower and toilet
Living room with comfortable seats
Kitchen with own fire and fridge
Air-conditioning and heating
Towels, hair dryer and bed linen
Price:
80 euros / night (2 people, without breakfast)
110 euros / night (4 people, without breakfast)
100 euros / night (2 people; breakfast included)
150 euros / night (4 people; breakfast included)
At El Perro Loco, you decide how you prefer to spend your holiday. There are two options:
Wil je volledige privacy? Dat kan perfect, gezien de casita's een eigen keuken hebben. Je kan in elke casita verblijven zonder ons te moeten zien. Heb je liever wat gezelschap? Dan zijn wij er graag voor jou. Jij slaapt in de casita, wij doen de rest. We voorzien dagelijks een ontbijt. Een paar keer per week – en in overleg met onze
Together with our guests, we'll decide when and where.
El Perro Loco heeft enkele gemeenschappelijke plaatsen. Het verwarmd zwembad ligt naast ons huis, dat betekent aan de overkant van de casita's … enkel 30 meter te overbruggen. Voor de dranken werken we met een honesty bar: wij voorzien een volle koelkast, onze gasten duiden aan wat ze nemen.
El Perro Loco heeft een grote tuin/berg, waar je op ontdekking kan gaan naar de verschillende 'rusthoekjes'. Wij hebben een boekenkast, want is er iets zaliger dan een keer wegdromen met een heerlijk verhaal?
Of course, it's also possible to book for just one person. Then you'll pay 70 euro/night, breakfast included.
Gezien we huisjes verhuren, werken met met een minimum verblijf van 3 nachten.
Transport from and to the airport: 75 euros
Do some shopping to provide a full fridge upon your arrival: cost of the shopping + 20 euros for the service